Welcome to the Farnborough Rugby Web site.
Hampshire's Friendliest club
Farnborough Rugby clubhouse and grounds are situated in Oak Farm Playing Fields within walking distance of Farnborough Town centre and railway station, close to junction 4 of the M3 motorway.
For directions to Farnborough Rugby Club click here.
Please do not park in Tilebarn Close at any time.
---
James 'Bungle' Walters
Dear Club Members
It is with great sadness that I am writing to inform all club members of the death of James 'Bungle' Walters 'One of Our Boys' who died on Saturday 26th April 2014 whilst serving in Afghanistan. As many of you have no doubt read in the papers or seen in the news he was a member of the crew that tragically died in the Lynx helicopter crash.
Bungle was a member of the 1st Team a stalwart in the 2nd row and had been playing for Farnborough RUFC where operational commitments allowed for the last three seasons.
Bungle was a larger than life character and always gave 100% to both the game and the Rugby Club. His job in the Army meant he was often deployed, but despite this when he was back in the country he was always available to play. He never let anyone down, especially his team mates, either as a serving soldier or on the Rugby Pitch.
Tragically and very sadly Bungle leaves behind his wife Tracey and a very young daughter Laney who was born only last November. To that end we have set up a collection, all those who would like to contribute please make your contributions in an envelope and put behind the bar either marked for Scott Mead or Lee Kirkham who are collecting the donations on behalf of the Club or make your donation straight to the Club Nat West Account where it has been ring fenced by Ian.
Sort: 60-08-13
A/C: 58044957
Name: Farnborough RUFC Ltd
Please use reference: Bungle donation
As a Club we have a long association with all 3 Armed Services and indeed over the years many Club members have served or are still serving. It is important to remember that these guys find solace in sport, and are never shy to step up to the mark whenever or where ever called; whether it be for Farnborough RUFC or Queen and Country. To this we owe them all great debt and gratitude.
Gary Allcock
Chairman
Farnborough RUFC

They went with songs to the battle, they were young.
Straight of limb, true of eye, steady and aglow.
They were staunch to the end against odds uncounted,
They fell with their faces to the foe.

They shall grow not old, as we that are left grow old:
Age shall not weary them, nor the years condemn.
At the going down of the sun and in the morning,
We will remember them.

They mingle not with their laughing comrades again;
They sit no more at familiar tables of home;
They have no lot in our labour of the day-time;
They sleep beyond England's foam
A Message from the Chairman.....
My sincerest welcome to all members, visitors and web site browsers.
Rugby is what we are about, this is the place to play, train, watch, and enjoy the general atmosphere of a vibrant rugby club.
Every member, whether playing or social, is important to the essential ingredients that make us a friendly and welcoming club.
Please come along for a visit we need more members playing and non-playing, just announce yourself at the bar and someone will show you around.
Gary Allcock
Chairman FRUFC
Snows Group Hants 1 League Table.....
| | | |
| --- | --- | --- |
| Team | Played | Points |
| Andover | 22 | 93 |
| Fordingbridge | 22 | 93 |
| Millbrook | 22 | 86 |
| US Portsmouth | 22 | 76 |
| Solent University | 22 | 70 |
| Farnborough | 22 | 65 |
| Bognor | 22 | 56 |
| Romsey | 22 | 34 |
| Isle Of Wight | 22 | 33 |
| Alton | 22 | 30 |
| Southampton | 22 | 25 |
| Overton | 22 | 9 |
last updated 12th April
Farnborough RUFC :. Hampshire Division 1
Next Matches..... September 2014
Hampshire Plate Winners 2013/14

Join Us.....
New players of all standards and ages are always welcomed at Farnborough RUFC.
We run teams for first, second and vets as well as a successful ladies section and mini and junior sides - under sevens through to colts.
If you are interested in playing good rugby at the friendliest club in Hampshire please see our contact page.
Join the FRUFC 100 Club.....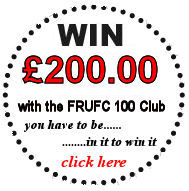 Every month you could win:
1st Prize £200.00
2nd Prize £100.00
3rd Prize £50.00

For more information click here.
Joining forms are available from our bar manager Brian Musson.
Latest News.....
Referee Protocol
Click here to read...
The 1st Team pitch is being over seeded and Verti Drained today 13th May. This is a large expense for the club and you are all asked to ensure that this money is well spent by not using the pitch for any activity in order to give the seed time to germinate.
The period for germination is of course weather dependant, so please keep an eye on the website for progress reports. The 2nd team pitch & the football pitch will be maintained following the football tournament this weekend.

**TRAINING**
Tuesdays and Thrursdays from 7.30
Ladies Rugby
On Wednesdays at 7.30 with coach Alf Botsio. All ladies welcome of any ability. Team will be playing in the touch rugby series in Hampshire.
Newsletter Available
Read the latest newsletter from FRUFC.. Click.
BACS PAYMENTS
Can all BACS payers to kindly add their names in the reference box when setting up their electronic payments.
FRUFC Hits 100 !.....
Farnborough RUFC Centenary weekend
Last weekend (May 9-11) was the Club's Centenary, and anyone who was there will probably agree that we celebrated in style. The events were centred around a large marquee at the back of the clubhouse, and started on Friday evening with a formal dinner and dance. Guests were welcomed with crudites and fizz, and a string quartet provided by Farnborough Sixth Form College. Dinner for 200 was organized by Nick Wilder, and cooked of course by Simon Windle and Asa Biggs (and I certainly enjoyed having a whole leg of lamb to myself). Guests included the Mayor and Lady Mayoress of Rushmoor, Sir Gerald Howarth MP, the President-Elect of the RFU, the President of Hampshire RFU, and the Chief executive of Rushmoor Council. The guest speaker was John "Bentos" Bentley, veteran of a number of Club dinners at Farnborough, who both kept us amused and kept to time (under strict instructions from our President). Tom and The Mays played until midnight, and those who still had the energy finished off the evening with a disco in the Clubhouse.
Saturday started with a pre-match lunch for around 80 (Simon cooking again), best steak I've has for a while. Guests included Leroy Angel, Chairman of the Rugby Union Foundation, Rick Scott from Hampshire RFU and representatives from Hampshire Clubs and Rushmoor Council. Farnborough played two matches, with the First XV against Fareham Heathens in the Final of the Hampshire Plate and A Farnborough XV against Solent Barbarians, an occasional side of players based on the south coast. Before the match we held a minute's silence for Bungle Walters. All four squads and officials lined up across the field in tribute, with a bugler from Deepcut playing the last post before the minute's silence. This was a very fitting, moving and dignified farewell to Bungle, and a video of it can be viewed on YouTube.
Also a fitting tribute was the result of the cup game, which Farnborough won convincingly 27-14, and congratulations are due to Adrian Price and his team for gaining Farnborough's first cup in 18 years. Farnborough did not do so well in the fixture against the Solent Barbarians, losing 7-34 to a very strong side. It was, nevertheless, a highly entertaining game to watch. More details of the matches are to be found in the News & Mail, where we received headline coverage on the front and back pages as well as a detailed match report inside. After the match a BBQ was provided outside for the many players and visitors by Paul Randall's team, while inside the clubhouse was packed and lively in a way not seen for a while (leaving Brian Musson and his team somewhat shattered by the end). The evening was capped with a disco run by Simon.
On Sunday the Minis and Juniors played sevens against sides from Petersfield and Aldershot & Fleet, with a BBQ to round off the weekend. Overall the weather could have been kinder, but that cannot be planned for, and it could have been worse.
A lot of people helped make a success of the Centenary weekend, one that we did in style and in a way that will long be remembered, from catering to bar staff to club and grounds to other members who stepped up for the event. The really hard work started in earnest the week before, with the outside of the club and the posts being repainted, and continued throughout the weekend, and the Centenary Committee is very grateful all who helped for making the event a great success.
Don't forget that Centenary merchandise (ties, polo shirts, dress shirts and mugs) are available from the Club shop. There are also a few remaining copies of the Club History available for £5 a copy, also from the shop.
Training and Matches.....
Senior training during the season is on Tuesdays and Thursdays for a 7:00 pm start. for more information please contact the club coach Adrian Price.
Matches are held on Saturdays more information can be found on the fixtures page, supporters are always welcomed at Farnborough Rugby Club.
Sponsoring the Club.....
Interested in sponsoring the club or player?
For more information contact Simon Windle by mailing simon@enhanced-design.co.uk.
Raise Funds for our Club.....
Easy Fund Raising provide a FREE service where you can shop with your favorite online stores and at no extra cost raise funds for FRUFC
You still shop directly with each retailer as you would normally, but simply by using the links from our site first, each purchase you make will generate a cash back donation to the cause you wish to support.
Click here to register and start raising funds for your club now! Just click the sign up link and follow the instructions.