Welcome to the Farnborough Rugby Web site.
Hampshire's Friendliest club
Farnborough Rugby clubhouse and grounds are situated in Oak Farm Playing Fields within walking distance of Farnborough Town centre and railway station, close to junction 4 of the M3 motorway.
For directions to Farnborough Rugby Club click here.
Please do not park in Tilebarn Close at any time.
A Message from the Chairman.....
My sincerest welcome to all members, visitors and web site browsers.
Rugby is what we are about, this is the place to play, train, watch, and enjoy the general atmosphere of a vibrant rugby club.
Every member, whether playing or social, is important to the essential ingredients that make us a friendly and welcoming club.
Please come along for a visit we need more members playing and non-playing, just announce yourself at the bar and someone will show you around.
Gary Allcock
Chairman FRUFC
League Table.....
| | | |
| --- | --- | --- |
| Team | Played | Points |
| Andover | 11 | 44 |
| Solent University | 11 | 43 |
| Millbrook | 11 | 41 |
| Fordingbridge | 11 | 40 |
| Farnborough | 11 | 37 |
| US Portsmouth | 11 | 36 |
| Bognor | 11 | 27 |
| Alton | 11 | 20 |
| Romsey | 11 | 17 |
| Isle Of Wight | 11 | 14 |
| Southampton | 11 | 9 |
| Overton | 11 | 7 |
last updated 9th December
Farnborough RUFC :. Hampshire Division 1
Next Matches..... Sat 14th December - KO 2.00pm
1st XV - Andover - Away
2nd XV - - Portsmouth Vets - Away
Join Us.....
New players of all standards and ages are always welcomed at Farnborough RUFC.
We run teams for first, second and vets as well as a successful ladies section and mini and junior sides - under sevens through to colts.
If you are interested in playing good rugby at the friendliest club in Hampshire please see our contact page.
Join the FRUFC 100 Club.....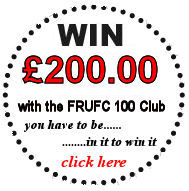 Every month you could win:
1st Prize £200.00
2nd Prize £100.00
3rd Prize £50.00

For more information click here.
Joining forms are available from our bar manager Brian Musson.
Latest News.....
**TRAINING**
Tuesdays and Thursdays 7.30pm
Newsletter Available
Read the latest newsletter from FRUFC.. Click.
BACS PAYMENTS
Can all BACS payers to kindly add their names in the reference box when setting up their electronic payments.
FRUFC Hits 100 !.....
Next year Farnborough Rugby Union Football Club celebrates its Centenary. The Club was first formed in 1914 by staff at the then Royal Balloon Factory, which became the Royal Aircraft Factory, then the Royal Aircraft Establishment. The club then moved in 1978 and changed its name (first to Rushmoor RUFC and then to Farnborough RUFC). The Club is proud of its heritage and will be holding special events to mark the Centenary Year.
The Club has designated the weekend 9th to 11th May 2014 as the Centenary Weekend. Events planned are a formal dinner/dance on the Friday evening (in a marquee at the club), a lunch (including for ex members) on the Saturday followed by an invitation rugby match and an evening BBQ and disco, and a family day on the Sunday.
A Club sub-committee has been formed to organise these events. Detailed plans are being firmed up, and updates will be given on the website. Information will include mention that members will soon be able to put a deposit down to guarantee themselves a ticket for the main event on the 9th May 2014. If you have any queries or require more information please contact the sub-committee chairman Les Ruskell at l.ruskell@ntlworld.com or Club Director and President Robin Moses at robin@moses-security.wanadoo.co.uk.
Training and Matches.....
Senior training during the season is on Tuesdays and Thursdays for a 7:00 pm start. for more information please contact the club coach Adrian Price.
Matches are held on Saturdays more information can be found on the fixtures page, supporters are always welcomed at Farnborough Rugby Club.
Sponsoring the Club.....
Interested in sponsoring the club or player?
For more information contact Simon Windle by mailing simon@enhanced-design.co.uk.
Raise Funds for our Club.....
Easy Fund Raising provide a FREE service where you can shop with your favorite online stores and at no extra cost raise funds for FRUFC
You still shop directly with each retailer as you would normally, but simply by using the links from our site first, each purchase you make will generate a cash back donation to the cause you wish to support.
Click here to register and start raising funds for your club now! Just click the sign up link and follow the instructions.